Wow – our section hike in Shenandoah National Park is ready to begin. We leave tomorrow morning about 8am and will arrive in Waynesboro, Virginia mid afternoon. Our hiking will begin on Tuesday morning (June 1).
Garmin – GPS Location Link: share.garmin.com/jstonis1 Password is "hike". Feel free to use this and contact us during our hike. This site will drop a GPS waypoint every 10 minutes where you can see exactly where we are, how fast we are moving etc. This device will also serve as a way for me to send messages since we expect limited cell phone service during the hike.
We've been preparing for this hike for several months now. I am excited to share bits of information with you. If you are interested in what we are bringing (carrying on our backs) – this video goes through everything that will be in my pack.
What We've Been Doing
The decision to hike started many months ago. The planning began about 3 months ago. This involved:
Completely reviewing all gear, weighing each item and determining whether existing gear could be used or if new / lighter should be purchased.
Purchasing gear I didn't have.
Hiking – lots of training hikes. We covered many miles between our house and Mills Road Park where we conducted our training hikes.
Determining which section to hike
Planning our itinerary. I've spent many hours pouring over the Appalachian Trail Guide, watching videos, reading books etc trying to determine what route – NOBO, SOBO etc.
Where will we spend our "zero" day? Hotel, AirBnB, Hostel etc.
Our hike will cover 8 full days of hiking split into 2 segments. We will hike for 4 days, take a day of rest and then hike for 4 more. Our hiking plan and the miles we plan to cover is as follows: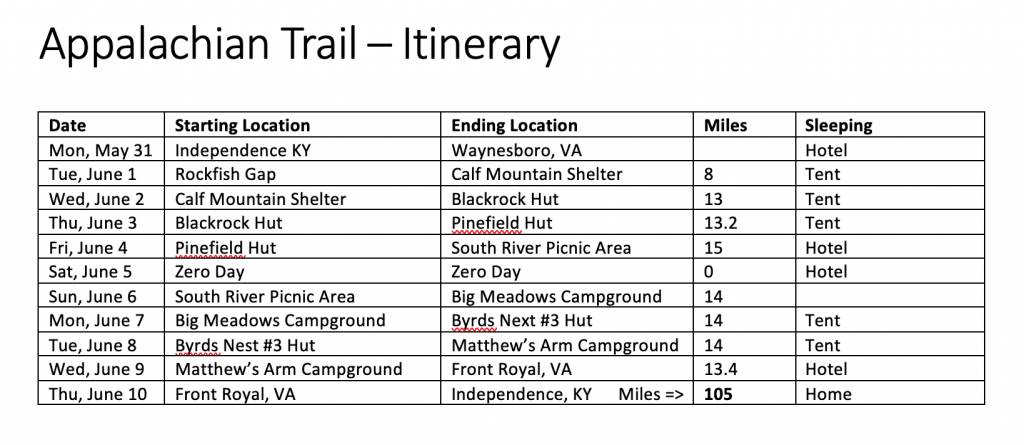 We will, of course, be flexible in our hike. This is a general plan. We will, however, be pretty rigid on our plan on days 1 and 2 because of the water source situation. There is no water source between Rockfish Gap and Calf Mountain Shelter. This is also no water source between Calf Mountain Shelter and Blackrock shelter. We must cover the 13.2 miles if we want water.
To close out today's post, I will post our gear list & the weight here as a screenshot from my spreadsheet.